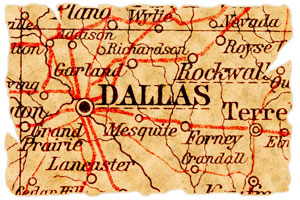 Dallas is a conservative city with a considerable Baptist and Methodist presence and a penchant for professional sports. Residents take great pride in their baseball, basketball, and hockey teams, but especially in their football team, the Dallas Cowboys. Visitors can also catch a weekly performance by the Mesquite Championship Rodeo from April through September.

Located approximately 250 miles north of the Gulf of Mexico, Dallas experiences hot summers frequently reaching over 100 degrees and somewhat mild winters with only occasional snowfall. Large population growth has led to urban sprawl, and long commute times are the norm on its extensive web of freeways. Dallas International Airport renders the city a hub of international travel and it can be reached easily by car, bus, train, or air.

This Dallas directory provides convenient access to a broad spectrum of enterprises that are located in Dallas, Texas. In-depth information and news about Dallas can be found on these regional Dallas Libraries and Dallas Newspapers pages, respectively. Visitors to Dallas will find this Dallas Travel and Tourism website useful.
---
Copyright © 2012-2022 Zeducorp.
All rights reserved.

Interactive Maps of Dallas