Showcasing a skyline dominated by futuristic skyscrapers, Dallas is the second largest city in Texas and the ninth largest city in the United States. Originally populated by cattle and cowboys, this modern metropolis was founded as a trading post in 1846 and became a prominent center for business and industry after the discovery of oil in 1930. Dallas also gained tragic notoriety as the place of President John F. Kennedy's assassination while traveling by motorcade. It later received more positive acclaim through the extremely popular television show of the same name which ran from 1978 to 1991.

The city of Dallas has become one of the the most prominent centers of business and finance in the southwestern United States. In addition to being a leading center for banking, it is second in the nation in insurance company headquarters and convention business, and third nationally in million-dollar Fortune 500 companies. Dallas also has more shopping space and retail centers per capita than any other city in the USA.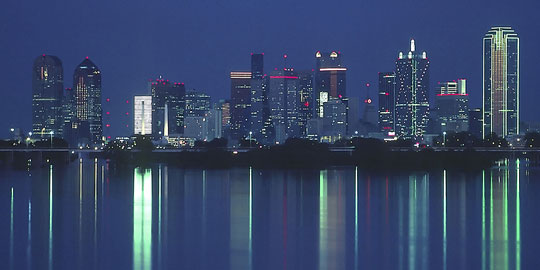 Dallas Skyline at Night
Visitors will find many impressive options for dining, entertainment, and arts and culture, including a 60-acre arts district located in the downtown area. Other attractions include various museums as well as the Dallas Zoo, Six Flags over Texas, and a 66-acre arboretum and botanical garden. The annual State Fair of Texas held in 277-acre Fair Park is also a huge draw, bringing in over 3 million people each fall.
Dallas is a conservative city with a considerable Baptist and Methodist presence and a penchant for professional sports. Residents take great pride in their baseball, basketball, and hockey teams, but especially in their football team, the Dallas Cowboys. Visitors can also catch a weekly performance by the Mesquite Championship Rodeo from April through September.
Located approximately 250 miles north of the Gulf of Mexico, Dallas experiences hot summers frequently reaching over 100 degrees and somewhat mild winters with only occasional snowfall. Large population growth has led to urban sprawl, and long commute times are the norm on its extensive web of freeways. Dallas International Airport renders the city a hub of international travel and it can be reached easily by car, bus, train, or air.
Downtown Dallas Street Map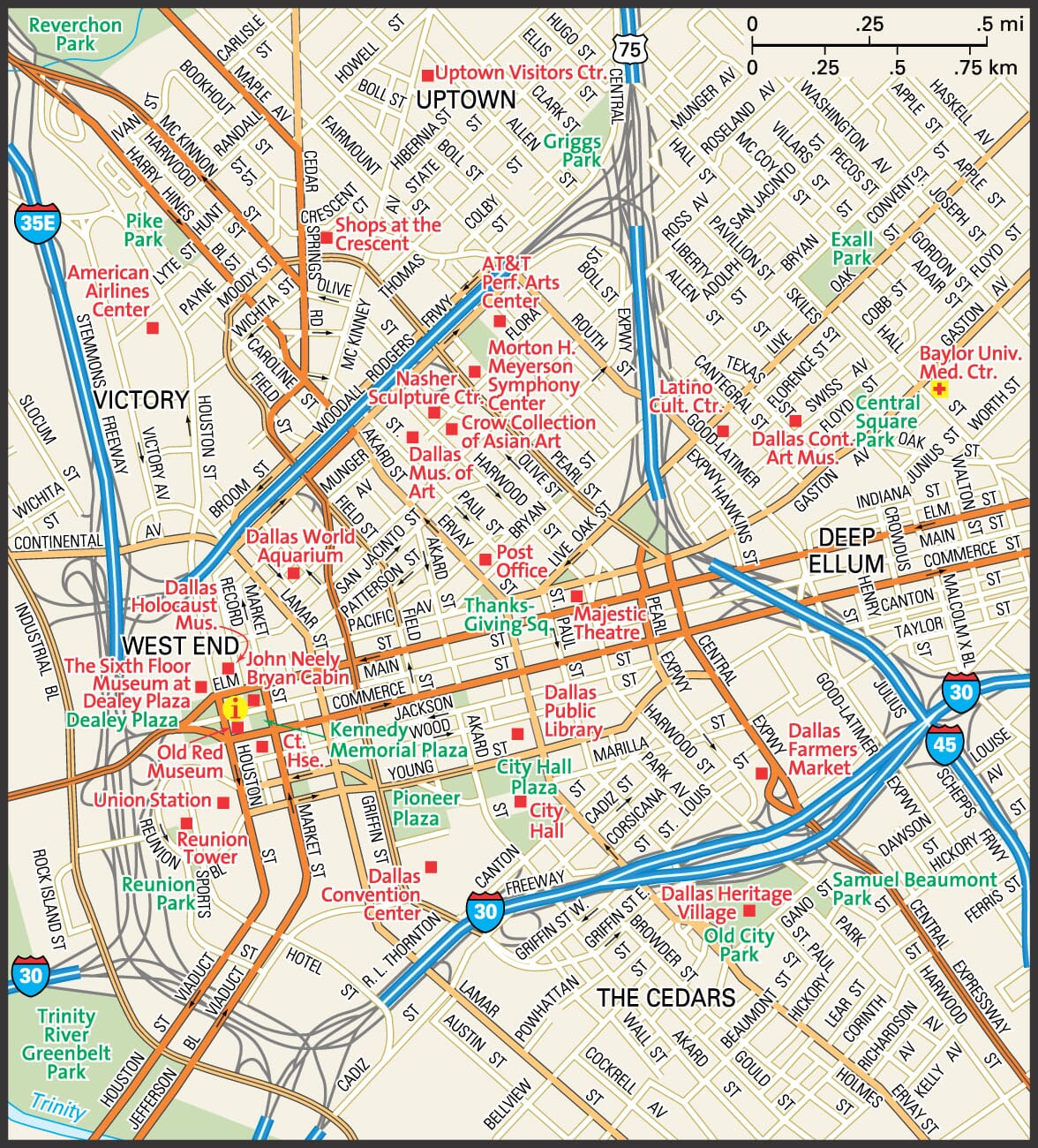 The center of Dallas, Texas is located at about 32.77 degrees North (latitude) and 96.77 degrees West (longitude). The city occupies approximately 342.5 square miles in land area; according to the 2010 census, Dallas' population was 1,197,816.
Dallas Information Directory
In-depth Dallas information and news can be found on these regional Dallas Libraries and Dallas Newspapers pages, respectively. Visitors to Dallas will find this Dallas Travel and Tourism website useful.
---
Copyright © 2012- Dallas-Map.com. All rights reserved.

Map of Dallas, Texas